This is a first for me..I have always loved to write poems..doesn't mean it's any good..but I got up the nerve to bring this out..and ..here goes !!..Thank You !!
THIS IS SOMETHING NEW. I ADMIRE THE POEMS I'VE READ..STEVIE RELATED OR OTHERWISE. SO, I WOULD LIKE TO INVITE ANYONE WHO WOULD LIKE TO SHARE THEIR "BEAUTIFUL WORDS"..STEVIE RELATED OR NOT ON THIS PAGE. IF YOU WOULD LIKE TO ADD YOUR POEM HERE, OR JUST PREFER TO SEND IT TO ME DIRECTLY..I DO HAVE A "LITTLE AWARD PROGRAM". ALL I ASK IS THAT YOUR POETRY IS FROM YOUR HEART. BELOW ARE SOME AWARDS I HAVE MADE..YOU DO NOT HAVE TO PUT THESE ON YOUR SITE (VERY NEW AT THIS)..AND IF YOU DO NOT HAVE A SITE,,THERE ARE MANY WHO WILL GLADLY OFFER MEMORABILIA. SO PLEASE CONTACT ME ~mailto:Stevie145@juno.com~ SHARE YOU WORDS WITH US. THANK YOU~
I HOPE YOU ENJOY THIS CREATIVE PART OF THIS SITE AND KNOW THAT EVERYONE IS A WINNER WHEN YOU EXPRESS YOURSELF IN POETRY. I WILL BE ADDING OTHER AWARDS I'M WORKING ON, SO IF YOU WOULD LIKE..SEND YOUR POEM FOR THIS PAGE OR JUST TO ME IF YOU PREFER TO KEEP YOUR THOUGHTS PERSONAL...EVERYBODY WINS..BECAUSE YOU HAVE THE GIFT OF EXPRESSING YOUR WORDS ON PAPER..AND THAT IS AN AWARD IN ITSELF~
Thank you Laura..for giving me this Poster~
THIS IS NOT REALLY A POEM, BUT WORDS FROM "A POET IN MY HEART". I HAVE THE PRIVELIDGE OF WORKING FOR THE PRESIENT AND CEO OF MY COMPANY. HE IS A STEVIE FAN...AND INSISTS ON MY WEEKLY REPORTS WITH "ANYTHING STEVIE". ROUGH JOB !! WELL, HE HAS ASKED ME MY THOUGHTS ON "STANDBACK" LYRICS..AND FROM THE WORDS OF MY POET...MR. C~ THIS IS WHAT HE HAS WRITTEN ~A TOTAL COMPLIMENT ~
"INTERESTING....VERY INTERESTING THOUGHTS PUT FORWARD BY SN.....AND KK.....SOMEHOW I THINK YOU AND SN ARE KINDRED SPIRITS IN MANY WAYS......ACTUALLY IN VERY MANY WAYS!
READ BETWEEN THE LINES.....
SOMETIMES WHAT IS NOT SAID IS JUST AS IMPORTANT AS IS WHAT IS SAID.....MAYBE EVEN MORE IMPORTANT.....SOMETIMES"
HAUNTED~
ON THIS DAY YOU DID IT AGAIN
WHEN WILL YOU LEARN YOU'LL NEVER WIN
YEARS OF TRYING TO CHANGE INSIDE
KEEP RUNNING AND CRYING NOWHERE TO HIDE
IS IT OVER NOT THIS NIGHT
HERE YOU SITE AND WRITE
WATCH THE WEEKS TURN TO MONTHS
PITY ON YOU I KNEW YOU ONCE
HOW MANY MORE TIMES..YOU PENNED THIS BEFORE
YOU THOUGHT SURE YOU WERE OVER THIS WAR
THIS IS A BATTLE YOU HAVE LOST
LOOK BACK AT THE YEARS AND SEE AT WHAT COST
~Mama~

She is like the tree of life
Pledged to it's Branches, her children;
which are Deep in Rememberance.
to stand against the storms.
High in the Roots, she filled this place
It feeds new life...
These are her Grandchildren.
With Love, you created our lives.
what falls away,
your strength lifts us up and Homeward.
Wholeness, Flourishing, Infinate Longevity...
The Leaves are your arms Protecting us.
Prosperity,
Binding,
This Love gave us the Courage to climb the tree of life..
Our seeds are sown from within you; we made our Garden.
Like an uncut Umbilical cord... Forever connected are we
And I Thank you for Being my very own.

~Windchild~

FOR YOU~
TO TELL A STORY IS NOT SO RARE
KEEP IN MIND WHAT YOU BEAR
GATHER YOUR THOUGHTS AND HOLD THEM TIGHT
CLOSE YOUR EYES AND SEE THRU THE LIGHT
TELL YOUR TALE WITH PEN AND PAPER
LET THESE IMAGES MAKE YOU SAFER
TAKE YOUR FEELINGS OUT OF YOUR HAND
AND LET YOUR VISIONS UNDERSTAND
NEVER HIDE THE FEAR AND PAIN
FACE YOUR DEMONS ON THIS PAGE
OPEN YOUR HEART TO NEW AND OLD
TRUST YOURSELF TO BE SO BOLD
NO ONE KNOWS THE CHAINS YOU SEE
SHOW THEM HOW TO BE SET FREE
GIVE YOURSELF JUST A LITTLE TIME..THEN
LET YOUR HEART FILL YOUR MIND ~
THIS POEM WAS SENT TO ME BY DAWN (GYPSY BOOTS~THANK YOU ..AND I KNOW YOU WILL ENJOY THESE WORDS... OF A POET ~
Four Winds

"FOUR winds blowing through the sky,
You have seen poor maidens die,
Tell me then what shall I do
That my lover may be true."
Said the wind from out the south,
"Lay no kiss upon his mouth,"
And the wind from out the west,
"Wound the heart within his breast,"
And the wind from out the east,
"Send him empty from the feast,"
And the wind from out the north,
"In the tempest thrust him forth;
When thou art more cruel than he,
Then will Love be kind to thee."
~Sara Teasdale~
Thank You..To the great Stevie fans that have given me so much ..advice..awards..kind words..help..courage..luck..love..and Stevieness~
Kathy
~THIS IS A TRUE STORY..FOR ALL OF YOU THAT BELIEVE IN.."STEVIE MAGIC"...
JUST A WEEK AGO..I HAD A "STEVIE THING" HAPPEN. I WAS GIVEN A BEAUTIFUL CRESENT SILVER MOON CHARM AND CHAIN FOR CHRISTMAS LAST YEAR....AND I NEVER TOOK IT OFF..UNTIL THAT NIGHT I HEARD SOMETHING DROP ON MY FLOOR..BEFORE I WAS LEAVING. IT WAS THE CHARN..AND I LOOKED DOWN AND THE CHAIN BROKE..NOT AT THE CLASP..BUT IN THE LINK..AND I STARED...FEELING LIKE A BAD OMEN..AND FEW THINGS WENT WRONG THIS WEEK..BUT I REPLACED THE CHAIN..ONE WEEK LATER..AND THIS WILL BRING BACK THE GOOD FOR ME..AND EVERYONE.."SHE SAYS..DO NOT BREAK THE CHAIN"
THANK YOU FOR READING THIS..AND I HOPE YOU COME BACK SOON !!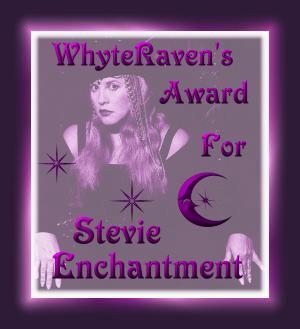 Thank You Karen~
GLORY~
YOU FEEL SORROW SO DEEP IT POUNDS
THE ANGER WITHIN BEGINS TO MOUND
IS THIS WHAT YOU WANT THE SAME OLD WAYS
WILL YOU EVER FIND YOUR GLORY DAYS
GO BACK AGAIN YOU KNOW YOU'LL FALL
WHAT CAN YOU DO TO SHOW THEM ALL
TAKE YOURSELF AND STOP RIGHT HERE
LET THEM KNOW YOU HAVE NO FEAR
TELL THE WORLD YOUV'E HAD ENOUGH
NO MORE PRETENDING TO BE TOUGH
TAKE MY HAND AND LEAD THE WAY
YOUR'E THE ONE TO TAKE THE PAIN AWAY
STOP YOUR DREAMING AND START YOUR LIFE..NOW
TAKE OUT THE OLD..THAT BROUGHT YOU DOWN
FIND A NEW PLACE..WHERE DREAMS ARE REAL
MAKE YOURSELF..MAGNET AND STEEL
(UNTITLED)
Written and Copyright by Lisa Appleby
"Look at this site"
"Tell Me what you see"
"A clone of your lady"
"Whom, somewhat resembles she"

"My heart aches for you to be near"
"But, when did anyone ever look beyond"
"The surface that was rooted so deep"
"If we were lonely and needed someone to care"
"To care enought the awaken us"
From our world, which the darkness dares to keep"..
ME~


SILLY DREAMER~
A TIME TO DREAM IS FOR THE CHILD
A ROOM TO HIDE A ROOM TO PLAY
A ROOM TO GROW A ROOM TO STAY
A TIME TO DREAM IS FOR THE TEEN
A ROOM TO WISH A ROOM TO DARE
A ROOM TO HIDE A ROOM TO STARE
A TIME TO DREAM IS FOR THE YOUNG
A ROOM TO LEARN A ROOM TO KNOW
A ROOM TO HOPE A ROOM TO GROW
A ROOM TO DREAM IS FOR THE DREAMER
A ROOM TO SIT A ROOM TO DENY
A ROOM TO CLOSE A ROOM TO FLY
DREAM ON, SILLY DREAMER~
THIS WAS UNTITLED UNTIL I TOOK THIS "WHAT KIND OF STEVIE ARE YOU QUIZ..I PULLED OUT THIS OLD POEM..AND COULDN'T HELP BUT CALL IT..SILLY DREAMER..I HOPE EVERYONE HAS TIME TO VISIT "COME IN OUT OF THE DARKNESS" AND SEE WHO YOU ARE IN..STEVIE'S WORLD..ANGELA ..YOU MADE ME ENCHANTED..BUT I WANTED TO BE A WILD HEART..AND NOW I AM ..A SILLY DREAMER..AND ALWAYS..A GYPSY~
Thank You Angela~
For This Inspiration~
STARLESS NIGHT~
CLOUDS IN THE NIGHT SWALLOW THE LIGHT
WINDS ARE HOWLING FILLED WITH FRIGHT
CLOSE YOUR EYES AND FEEL THE TREMOR
THE SKY IS BLINDED..DO YOU REMEMBER
ALL IS LOST AND BURIED SO DEEP
YOUR MIND IS CLOSED..YOUR THOUGHTS YOU KEEP
HOLD THEM TIGHTAND NEVER LET GO
THE SKY IS EMPTY..A SIGHT YOU KNOW
THE MOON HAS RISEN BUT LEFT UNSEEN
THE RAIN AHS FALLEN..DARE NOT DREAM
KEEP YOUR DARKNESS AND HIDE IT WELL
A STAR IS CALLING..YOU KNOW IT FELL
TAKE YOUR HAND AND REACH FOR THE NIGHT
TELL YOURSELF..THIS IS RIGHT
HEAR THE WIND SING TO THE SEA
A TIDE HAS WASHED..NEVER TO BE SEEN~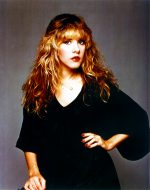 "WIND SISTER"
by JIMI PIPER
Temptress
of both light
and the night
Lady of the Moon
Made all the people swoon
She awaits
through the mirror
Floating
seven feet in the air
Peacock boas
in her blonde, blonde hair
Rhiannon rises
once again
Who wouldn't ask
what wind brought her here?
Those who'd beg to bask
in her mesmerizing haze
and peel back the mask
to meet her goddess gaze
Not for you
what wind she rides
into the pantheon
she goes
Clouds of neon
No one
but the planets
knows
Into the skies
Rhiannon's eyes
Cascading, purple caped
from Hollywood's Hills
swooping past Sunset
straight to Malibu
and beyond
goes the legend
Hovering
over the desertshoreline
Goldendraped
above the wildest caribou
Crystalline
prismic visions
Crimson
a Wildheart's missions
neverend
Straight to the abyss
as the willows bend
whisper
angels' caress
Rhiannon--
Beacon in the rain
flies again
Spinning, swathed
in a gypsy cowl
Haunting
as the coyotes' howl
Her perfection
a reflection
into the inky void
that is tomorrow
you'd beg and borrow
for the chance
to see her dance
Outside the night
Stunning sight
Lady shakes
the tambourine
velvetmilkywaystar
makes the scene
emerges
from her long, long car
Rock and Roll queen
Constellation girl
she spins
within
the suns
and the evening galaxies
that swirl
Only time
and space
Knows
Where tonight
Rhiannon goes.
# # #
Copyright 2002
by Jimi Piper
ALL THE SAME~
PRETEND IT WILL BE YOU KNOW IT'S A LIE
TAKE NO MORE REACH FOR THE SKY
YOU SAY YOU WANTED THIS BUT STOP AND SEE
EVERYONE ELSE..IS SET FREE
LET THEM LAUGH, HAVE THEIR FUN
MAYBE SOMEDAY, BUT NOT THIS ONE
START OUT NEW, TRY WITH ALL YOUR MIGHT
I KNOW YOUR SOUL, IS FILLED WITH FRIGHT
STOP THE GAMES, PUT IT TO REST
YOU HAVE THE POWER, PUT IT TO THE TEST
THEY ALL LAUGH, GO THEIR WAY
FIND YOURSELF, BEGIN THIS DAY
ANSWER TO NO ONE, KEEP YOURSELF CLOSED
THIS IS A GAME, PLAYED BY MOST
ONE DAY THEIR UP, ONE DAY GONE
KEEP YOURSELF RIGHT, WHERE YOU BELONG
I DIDN'T KNOW WHY, I CAN'T SEE THIS CLEAR
LISTEN TO THEM OVER, DON'T YOU HEAR
YOU CALL THE SHOTS, YOU KNOW THE GAMES
YOU ARE THE QUEEN, IT'S ALL THE SAME
GLITTER~
STOP THIS WORLD AND GET ON THE ROAD
TIME IS PASSING AS YOU GROW OLD
HOPE IS FADING FASTER THAN TIME
MAKE A NEW WAY LEAVE THEM BEHIND
THOSE THAT HAVE USED YOU...FOR THEIR GAIN
THOSE THOSE YOU CLING TO..FOR YOUR FAME
THOSE WHO LIE..AND DO NOT CARE
THOSE ARE ALL..THAT WILL DISAPPEAR
KEEP THE ONES YOU LOVE FOR GAIN
BUT TAKE OUT THOSE..THAT MAKE YOU INSANE
SO PUT THIS DOWN AND TO LIVE
SEEK OUT THOSE WHO KNOW HOW TO GIVE
HAVE THE GOOD LIFE YOU NEVER KNEW
AND BABY..IT ALL COMES DOWN TO YOU...